Overview
A tendon is a band of tissue that connects a muscle to a bone. The Achilles tendon runs down the back of the lower leg and connects the calf muscle to the heel bone. Also called the "heel cord," the Achilles tendon facilitates walking by helping to raise the heel off the ground. An Achilles tendon rupture is a complete or partial tear that occurs when the tendon is stretched beyond its capacity. Forceful jumping or pivoting, or sudden accelerations of running, can overstretch the tendon and cause a tear. An injury to the tendon can also result from falling or tripping. Achilles tendon ruptures are most often seen in "weekend warriors", typically, middle-aged people participating in sports in their spare time. Less commonly, illness or medications, such as steroids or certain antibiotics, may weaken the tendon and contribute to ruptures.
Causes
Factors that may increase your risk of Achilles tendon rupture include some of the following. Age. The peak age for Achilles tendon rupture is 30 to 40. Sex. Achilles tendon rupture is up to five times more likely to occur in men than in women. Recreational sports. Achilles tendon injuries occur more often during sports that involve running, jumping, and sudden starts and stops, such as soccer, basketball and tennis. Steroid injections. Doctors sometimes inject steroids into an ankle joint to reduce pain and inflammation. However, this medication can weaken nearby tendons and has been associated with Achilles tendon ruptures. Certain antibiotics. Fluoroquinolone antibiotics, such as ciprofloxacin (Cipro) or levofloxacin (Levaquin), increase the risk of Achilles tendon rupture.
Symptoms
If you rupture your Achilles tendon, you may hear a snapping or popping sound when it happens. You will feel a sudden and sharp pain in your heel or calf (lower leg). It might feel like you have been kicked or hit in the back of your leg. You may also have swelling in your calf. be unable to put your full weight on your ankle, be unable to stand on tiptoe, or climb stairs, have bruising around the area. If you have any of these symptoms and believe you have ruptured your Achilles tendon, go straight to accident and emergency at your local hospital. If you partially rupture your Achilles tendon, the tear may only be small. Symptoms of pain and stiffness may come on quite suddenly like a complete rupture, but may settle over a few days.
Diagnosis
Your doctor diagnoses the rupture based on symptoms, history of the injury and physical examination. Your doctor will gently squeeze the calf muscles, if the Achilles tendon is intact, there will be flexion movement of the foot, if it is ruptured, there will be no movement observed.
Non Surgical Treatment
Nonsurgical method is generally undertaken in individuals who are old, inactive, and at high-risk for surgery. Other individuals who should not undergo surgery are those who have a wound infection/ulcer around the heel area. A large group of patients who may not be candidates for surgery include those with diabetes, those with poor blood supply to the foot, patients with nerve problems in the foot, and those who may not comply with rehabilitation. Nonsurgical management involves application of a short leg cast to the affected leg, with the ankle in a slightly flexed position. Maintaining the ankle in this position helps appose the tendons and improves healing. The leg is placed in a cast for six to 10 weeks and no movement of the ankle is allowed. Walking is allowed on the cast after a period of four to six weeks. When the cast is removed, a small heel lift is inserted in the shoe to permit better support for the ankle for an additional two to four weeks. Following this, physical therapy is recommended. The advantages of a nonsurgical approach are no risk of a wound infection or breakdown of skin and no risk of nerve injury. The disadvantages of the nonsurgical approach includes a slightly higher risk of Achilles tendon rupture and the surgery is much more complex if indeed a repair is necessary in future. In addition, the recuperative period after the nonsurgical approach is more prolonged.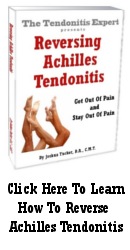 Surgical Treatment
Surgery for Achilles tendon rupture requires an operation to open the skin and physically suture (sew) the ends of the tendon back together, has a lower incidence of re-rupture than nonsurgical treatment. Allows return to pre-injury activities sooner and at a higher level of functioning with less shrinkage of muscle. Risks are associated with surgery, anesthesia, infection, skin breakdown, scarring, bleeding, accidental nerve injury, higher cost, and blood clots in the leg are possible after surgery. Surgery has been the treatment of choice for the competitive athlete or those with a high level of physical activity, for those with a delay in treatment or diagnosis, and for those whose tendons have ruptured again.
Prevention
You can help to reduce your risk of an injury to your Achilles tendon by doing the following. When you start a new exercise regime, gradually increase the intensity and the length of time you spend being active. Warm up your muscles before you exercise and cool them down after you have finished. The benefit of stretching before or after exercise is unproven. However, it may help to stretch your calf muscles, which will help to lengthen your Achilles tendon, before you exercise. Wear appropriate and well-fitting shoes when you exercise.